Posts for tag: dentures
By Floss and Smile, PC
September 05, 2013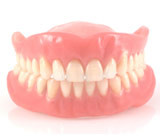 The image of Grandma and Grandpa taking out their dentures every night and placing them in a glass of water by the bed is still a reality for a lot of people.
If you have dentures, you probably know that the conditions in your mouth will or have changed over time, necessitating adjustments. This is because full dentures exert continuous pressure on the gum tissues and underlying bone of your jaw resulting in a slow shrinkage. The gum tissues, and the bone beneath, atrophy or melt away. The result — over time the dentures lose their original tight fit and become loose. This can cause discomfort and embarrassment as the dentures slip and slide around.
Reline (refit) your current dentures. If your dentures are in good condition and are functional, applying a new inner lining to the dentures will restore their former fit. Because the rate of bone loss differs from person to person, some denture wearers may need more frequent relines than others. A temporary reline involves adding a layer of moldable plastic material under the denture while you are in the dentist's chair. The material will harden and fill in spaces where the gums have shrunk away from the denture. For a more permanent relining, the dentures must be sent to a dental lab, which will replace the temporary material with permanent denture material. This can usually be done in one day.
A new set of dentures. If your dentures are worn or you cannot speak, eat, bite or chew properly with them, a new set of dentures may be the answer. The condition of your jaw is another factor. If examination shows that a reline will not achieve the fit and stability you need, then remaking the dentures is another option.
Dental Implants — State-of-the-art tooth replacement systems. Dentures used to be the only solution to the problem of missing teeth, but with today's technology it's amazing what dentists can do. Implants do not only replace teeth but also stabilize the gradual bone loss that takes place when teeth are missing. Choose dental implants to replace at least two of your missing teeth to anchor your dentures and make them more stable.
Have all your missing teeth replaced with dental implants. Dental implants are generally the best option for long-term denture wearers who have endured jawbone loss and can no longer tolerate dentures alone. Bridgework (or dentures) are attached to the implants, stabilizing them and the underlying bone. The new teeth also provide support to the face, lips and cheeks giving a more youthful appearance.
Contact us today to schedule an appointment or to discuss your questions about dentures and other tooth restorations. You can also learn more by reading the Dear Doctor magazine article "Loose Dentures."
By Floss and Smile, PC
July 29, 2013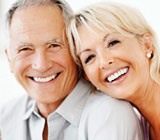 Edentulism — the complete loss of all the permanent teeth — is a condition that affects over one-quarter of all Americans over the age of 65. For many seniors, it can be a devastating blow to their confidence and self-image. Worse, if left untreated, it may lead to nutritional problems, periodontal disease, and bone loss.
Fortunately, an affordable, time-tested treatment option is available: full denture prosthetics, or false teeth. Denture technology has changed over time, but one aspect of the process remains the same: making a superior set of dentures requires an equal blend of science and art.
To replicate the look of a patient's natural teeth, a dentist must make many choices: What size should the new teeth be? How much of them should show above the gum line? How should they be spaced? Photographs of the patient before tooth loss can help in making the decisions. We will use these, combined with clinical acumen and an artist's eye, to achieve the best aesthetic results.
But dentures not only simulate the teeth and gums they replace — they also help support the facial skeleton and the soft tissues of the lips and cheeks. Balancing the muscular forces of the jaws and tongue, they help restore natural functions like speech and eating. In order to perform these tasks properly, it is essential that they be well crafted.
At each stage of their progress, from temporary wax rims through the hard plastic resins of the final product, the dentures are carefully custom-fitted to the contours of the patient's mouth. Their bite must be balanced, meaning that upper and lower dentures come together to properly stabilize each other. This ensures that they will be comfortable to wear and will function properly.
Most people have only minor issues as they make the adjustment to wearing dentures; but for some, it's more troublesome. There are various options available to those patients, including implant-supported hybrid dentures. We can recommend alternatives based on your individual needs and preferences.
If you would like more information about dentures, please contact us or schedule an appointment for a consultation. You can also learn more about this topic by reading the Dear Doctor magazine article "Removable Full Dentures."
Cosmetic & Family Dentistry
& Orthodontics
1438 Duke Street
Alexandria, VA 22314
office (703) 212-0602
fax (703) 212-0607