Posts for tag: dental implants
By Floss and Smile PC
December 30, 2013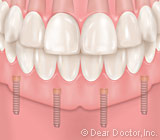 If you are at all uncomfortable at the thought of getting a dental implant, you might be pleasantly surprised to learn the truth about these marvelous state-of-the-art tooth-replacement systems — and the special role of a relatively new device, the mini-implant. So, first, let's go over some basic facts.
What's a dental implant? Basically, it's just a replacement for the root part of the tooth, the part that lies beneath the gum line. It attaches to a crown, which is a replacement for the visible portion of the tooth. But instead of ceramics or metals, implants are made of titanium, which becomes fused to the surrounding bone. When complete, implants are much stronger and longer-lasting than other methods of tooth replacement, like bridgework and dentures.
Implants are presently regarded as the best way to replace missing teeth, with a success rate of over 95%. They also help prevent bone loss in the jaw, a major goal of modern dentistry. Having one put in is an office procedure that's generally accomplished with local anesthesia, and most patients experience only minor discomfort. Standard dental implants can be used to replace a single tooth, or multiple teeth. The mini-implant, which is just a miniature version of the same technology, is now playing an increasing role in many other phases of dentistry.
Why mini-implants? Because in several situations, this smaller and less expensive alternative offers a solution that's just as good — or better — than any other dental treatment. One area where mini-implants excel is in supporting lower jaw overdentures.
Many people find that lower dentures are far more troublesome than upper dentures. The movement of the tongue muscle, and the smaller area of surface contact (compared to the upper denture, which is supported by the palate) often results in a poor, loose fit, which leads to problems when eating or speaking. These problems can be solved by affixing a lower overdenture (an implant-retained denture) with just two mini-implants.
Not only do mini-implants help prevent bone loss, they also give the denture wearer increased stability, comfort, and confidence. And they do so at a price that's more economical than you might think. In some cases, the mini-implants can be placed in a single one-hour office visit, and your own denture can be modified to fit them — so you can go home and eat a steak that night!
Another area where mini-implants are finding increasing use is in orthodontics. Orthodontic appliances (commonly called braces) move teeth by exerting a light force on them, using a wire which is fixed to a solid anchor point. Traditionally, other teeth are used as anchors — but sometimes these teeth move as well! By using immovable mini-implants as the anchor points, the process is greatly simplified. Strategically placed mini-implants called TADS (temporary anchorage devices) can be used to correct both skeletal (jaw) position and dental (tooth) position problems.
Mini-implants may also be used in upper dentures and temporary bridgework.
If you would like more information about mini-implants, please contact us or schedule an appointment for a consultation. You can also learn more about this topic by reading the Dear Doctor magazine articles "Implant Overdentures for the Lower Jaw," "The Great Mini-Implant," and "What are TADS?"
By Floss and Smile, PC
September 05, 2013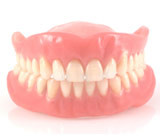 The image of Grandma and Grandpa taking out their dentures every night and placing them in a glass of water by the bed is still a reality for a lot of people.
If you have dentures, you probably know that the conditions in your mouth will or have changed over time, necessitating adjustments. This is because full dentures exert continuous pressure on the gum tissues and underlying bone of your jaw resulting in a slow shrinkage. The gum tissues, and the bone beneath, atrophy or melt away. The result — over time the dentures lose their original tight fit and become loose. This can cause discomfort and embarrassment as the dentures slip and slide around.
Reline (refit) your current dentures. If your dentures are in good condition and are functional, applying a new inner lining to the dentures will restore their former fit. Because the rate of bone loss differs from person to person, some denture wearers may need more frequent relines than others. A temporary reline involves adding a layer of moldable plastic material under the denture while you are in the dentist's chair. The material will harden and fill in spaces where the gums have shrunk away from the denture. For a more permanent relining, the dentures must be sent to a dental lab, which will replace the temporary material with permanent denture material. This can usually be done in one day.
A new set of dentures. If your dentures are worn or you cannot speak, eat, bite or chew properly with them, a new set of dentures may be the answer. The condition of your jaw is another factor. If examination shows that a reline will not achieve the fit and stability you need, then remaking the dentures is another option.
Dental Implants — State-of-the-art tooth replacement systems. Dentures used to be the only solution to the problem of missing teeth, but with today's technology it's amazing what dentists can do. Implants do not only replace teeth but also stabilize the gradual bone loss that takes place when teeth are missing. Choose dental implants to replace at least two of your missing teeth to anchor your dentures and make them more stable.
Have all your missing teeth replaced with dental implants. Dental implants are generally the best option for long-term denture wearers who have endured jawbone loss and can no longer tolerate dentures alone. Bridgework (or dentures) are attached to the implants, stabilizing them and the underlying bone. The new teeth also provide support to the face, lips and cheeks giving a more youthful appearance.
Contact us today to schedule an appointment or to discuss your questions about dentures and other tooth restorations. You can also learn more by reading the Dear Doctor magazine article "Loose Dentures."
Cosmetic & Family Dentistry
& Orthodontics
1438 Duke Street
Alexandria, VA 22314
office (703) 212-0602
fax (703) 212-0607