Posts for: November, 2013
By Floss and Smile PC
November 27, 2013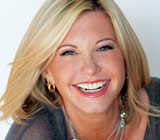 Olivia Newton-John, now in her early 60's, is still a fresh-faced picture of health — with a radiant smile to match. How does she do it? She does it with healthy habits learned from her German-born mother, Irene.
"I love greens, and as many organic vegetables as possible," Olivia recently told Dear Doctor magazine. "From spinach to salads to beets — pretty much any and all greens!"
Olivia credits her mom with instilling her lifelong love of healthy foods. Irene used dark bread rather than white bread for sandwiches and even made her own yogurt — which she used as a topping on baked fruit for dessert.
"Growing up, my mum really taught us some great eating habits," Olivia told the magazine. "When I was a girl in school, all of my friends would have cakes and cookies and fun foods but my mum was all about teaching us to eat healthy foods and to be very aware of what we were putting into our bodies. At the time I was annoyed about it, but looking back now I thank her for teaching me at an early age to eat healthily."
Irene paid particular attention to her children's oral health. "My mum always made us brush and floss after every meal so, once again, like the foods we ate, she taught us early about the importance of great dental hygiene," said Olivia, who has an older brother and sister.
As a mom herself, Olivia passed those healthy habits down to her daughter, Chloe.
"I always insisted on regular dental checkups and limited sugar, especially in soft drinks — they were never in our fridge," she said.
Parents do play an important role in developing healthy oral habits from the very beginning, starting with proper tooth-brushing techniques. By age 2, a brushing routine should be established using a smear of fluoride toothpaste. For older toddlers, parents can use a child's size soft toothbrush with water and a pea-sized amount of fluoride toothpaste. Children need help brushing until at least age 6, when they can generally take over brushing by themselves and also learn to floss.
The point of a good daily oral hygiene routine is to remove the film of bacteria that collects daily along the gum line, and in the nooks and crannies of teeth. Effective daily removal of this biofilm will do more to prevent tooth decay and promote lifelong dental health than anything else.
If you would like to learn more about preventing tooth decay or teaching your child to brush and floss correctly, please contact us or schedule an appointment for a consultation. If you would like to read Dear Doctor's entire interview with Olivia Newton-John, please see "Olivia Newton-John." Dear Doctor also has more on "How to Help Your Child Develop the Best Habits for Oral Health."
By Floss and Smile PC
November 12, 2013
If your infant is extra cranky and seems to want to chew everything in sight, it's a good bet that the first tooth is on the way! For parents, this is cause for both celebration and concern. After all, no parent wants to see a child suffer even a little bit. Decades ago, when a teething infant showed signs of discomfort, a parent might have rubbed some whisky or other strong liquor on the child's gums — a misguided and dangerous practice. There are far safer, more effective ways to help your child through this exciting yet sometimes uncomfortable phase of development. Here are our top five teething remedies:
Chilled rubber teething rings or pacifiers. Cold can be very soothing, but be careful not to freeze teething rings or pacifiers; ice can actually burn the sensitive tissues of the mouth if left in place too long.
Cold, wet washcloths. These are great for gnawing on. Make sure the washcloth is clean and that you leave part of it dry to make it more comfortable to hold.
Cold foods. When your child is old enough, cold foods such as popsicles may soothe sore gums. However, make sure you confine them to mealtimes because sugars can cause tooth decay — even in very young children.
Gum massage. Massaging inflamed gums with your clean finger can help counteract the pressure from an erupting tooth.
Over-the-counter medicine. If teething pain persists, you can give your baby acetaminophen or ibuprofen, but check with a pharmacist or this office for the correct dosage. The medicine should be swallowed and not massaged into the sore areas, as this, too, can burn.
So when does it all begin? Some babies start teething as early as three months or as late as twelve months, but the typical time frame is between six and nine months. Usually the two lower front teeth erupt first, followed by the two upper front teeth. The first molars come in next, followed by the canines (eyeteeth). Most children have all 20 of their baby teeth by age 3.
If you have any questions about teething or the development of your child's teeth, please contact us or schedule an appointment for a consultation. You can also learn more by reading the Dear Doctor magazine article "Teething Troubles."
Cosmetic & Family Dentistry
& Orthodontics
1438 Duke Street
Alexandria, VA 22314
office (703) 212-0602
fax (703) 212-0607